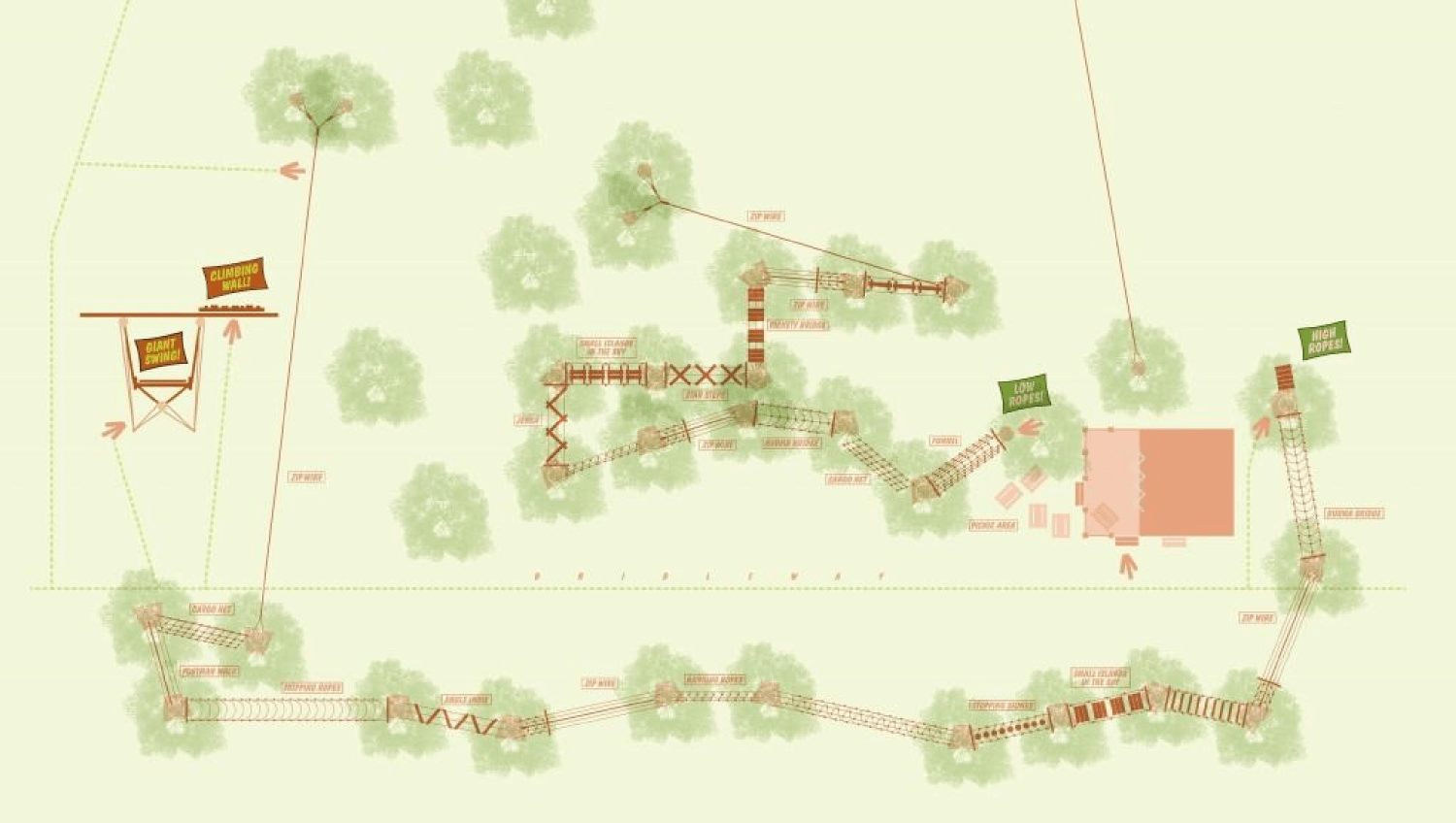 Our mission is to introduce you to the thrill of treetop activity and adventure, in a safe, professional environment. At Branching Out there is something for everyone. Whether you are part of a school group, visiting family or party booking, we always aim for a positive outcome. We encourage fully-inclusive participation.
After checking you r booking at our cafe reception, a short walk from the carpark, we'll start your induction and prepare you for your first activity. Where will you start? Face your fears head-on with the Giant Swing or ease into the trees with our low ropes course? 
Relax, get your breath back and delight in the beautiful woodland scenery at our HQ. Enjoy locally-sourced refreshments whilst settling back to watch your friends and family have fun amongst the trees.
HIGH ROPES
£18 Per Child
£20 Per Adult
LOW ROPES 
£16 Per Child
£18 Per Adult
CLIMBING WALL
£6 Per Child
£6 Per Adult
GIANT SWING
£6 Per Child
£6 Per Adult
SPEED ZIPWIRE
£6 Per Child
£6 Per Adult
BOUNCE ABOUT
£7 Per Child
Children only
Our Headquarters log cabin is where the admin gets done and where the teas get made….as it's also home to Cyril's Café.
Take a break from the activities and relax for a few minutes to enjoy the view through the open side of the cabin.
We have fresh coffee (mmm), tea and snacks for an energy boost! There's a freezer full of ICE CREAM (in the warmer months), and all your favourite soft drinks in our chiller.
There is comfy sofa seating, tables and chairs and a warm welcome awaits you.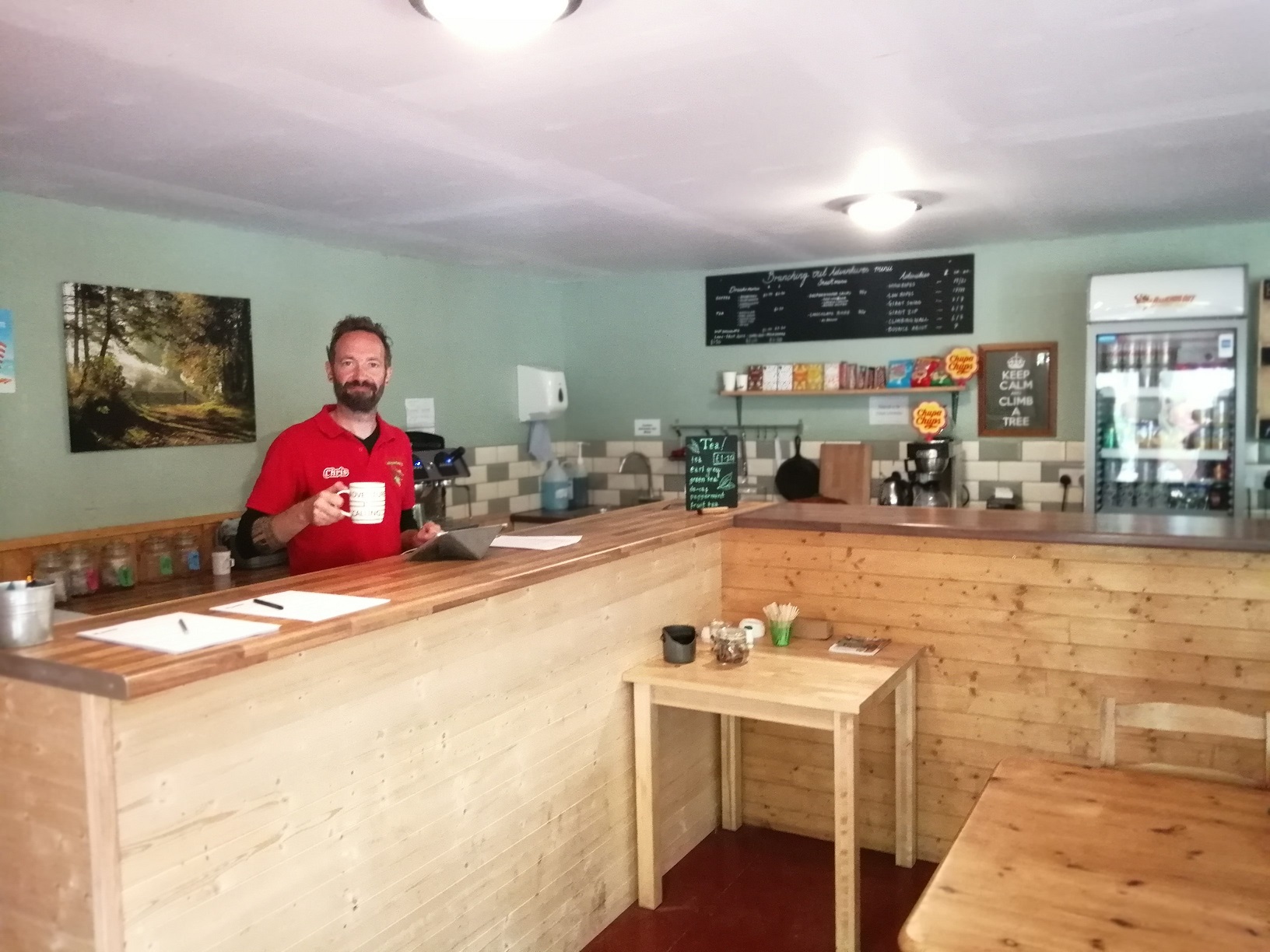 Open until the end of november - reopeningn february half term
Opening Hours FOR 2O24 BELOw
PRE-BOOKING IS ESSENTIAL
We are open every weekend, on public holidays and every day throughout the East Sussex school holidays.
Weekend, School Holiday and Public Holiday Opening Hours:
WEEKENDS;
10th February to 27th October – 10.30am to 4pm. 
28th October to 30th November – 10.30am to 3pm.
SCHOOL HOLIDAYS;
10th February to 16th February – 10.30am to 4pm daily.
1st April to 12th April – 10.30am to 4pm daily.
27th May to 31st May – 10.30am to 4pm daily.
24th July to 1st Sept – 10.30am to 4pm daily.
23rd October to 27th October – 10.30am to 4pm daily.
We also have some weekday, term-time rope course slots available to book online. Check website for availability.
GET IN TOUCH:
We open for groups bookings outside of our usual opening times, so please contact us for more information.
If you are unsure of availability, would like to book a birthday party or have any other general enquiries that you can't find answers to here, please email chris@branchingoutadventures.co.uk
FIND US
DIRECTIONS:
IF YOU USE THE WHAT3WORDS LOCATION APP, WE ARE AT rewrites.debt.lung.
From B2192, turn onto Harvey's Lane, you'll find us a mile or so along, through the stone pillars, on the Bentley estate. Look for our car park with the green shipping container.
From A26, turn onto Bradford's Lane and then, at the fork in the road, turn right onto Harvey's Lane. Go through the stone pillars and look for our car park with the green shipping container.
WE ARE AT:
BRANCHING OUT ADVENTURES BENTLEY, HARVEYS LANE, HALLAND, EAST SUSSEX. BN8 5AF
Look for the Branching Out Adventures sign and follow the track across the field, into the woods. See you there!!
SEE YOU SOON!!
GO CAMPING WITH OUR NEIGHBOURS - EMBERS CAMPING
If you are thinking of going camping this year, why not try our neighbours, Embers Camping at Bentley? They have excellent facilities for tents, bell tents and camper vans, along with great showers and even a pizza oven operating during warmer months. Click the link to go to their website: https://www.emberscamping.co.uk/campsites/bentley-sussex/