Our mission is to introduce you to the thrill of treetop activity and adventure, in a safe professional environment. At Branching Out there is something for everyone and after a brief induction at our Headquarters, only a short walk from the carpark, you are free to choose your first activity. Where will you start? Face your fears head on, or ease into the trees with our low ropes course? Or just stop by the giant swing for a heady dose of adrenaline!
Relax, get your breath back and delight in the beautiful woodland scenery at our HQ. Enjoy locally-sourced refreshments whilst settling back to watch your friends and family have fun amongst the trees.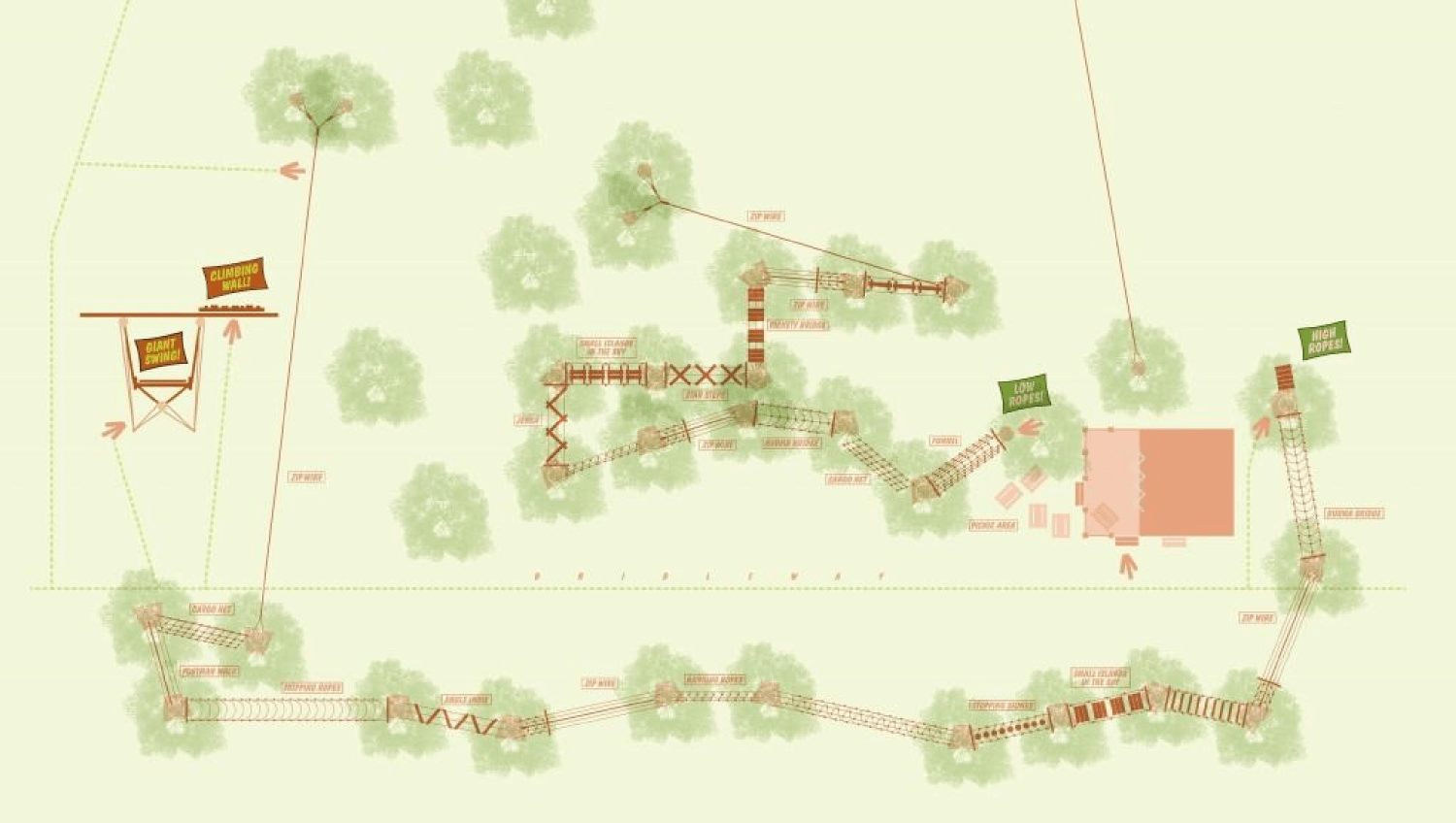 HIGH ROPES
£18 Per Child
£20 Per Adult
LOW ROPES
£16 Per Child
£18 Per Adult
GIANT SWING
£5 Per Child
£6 Per Adult
CLIMBING WALL
£5 Per Child
£6 Per Adult
SPEED ZIPWIRE
£5 Per Child
£6 Per Adult
Our Headquarters log cabin houses a selection of Branching Out Adventures gifts and clothing as a memento of your visit to our Treetop Adventure Park.
Take a break from the activities and Relax in our Branching Out Adventures Café.
We have fresh coffee (mmm) and delicious cookies and muffins (if the kids haven't eaten them all by the time you get here!). Also we can make fresh sandwiches for you if you contact us and pre-order. There's a freezer full of ICE CREAM, and all your favourite snacks and drinks in our chiller.
There is ample seating and a warm welcome awaits you.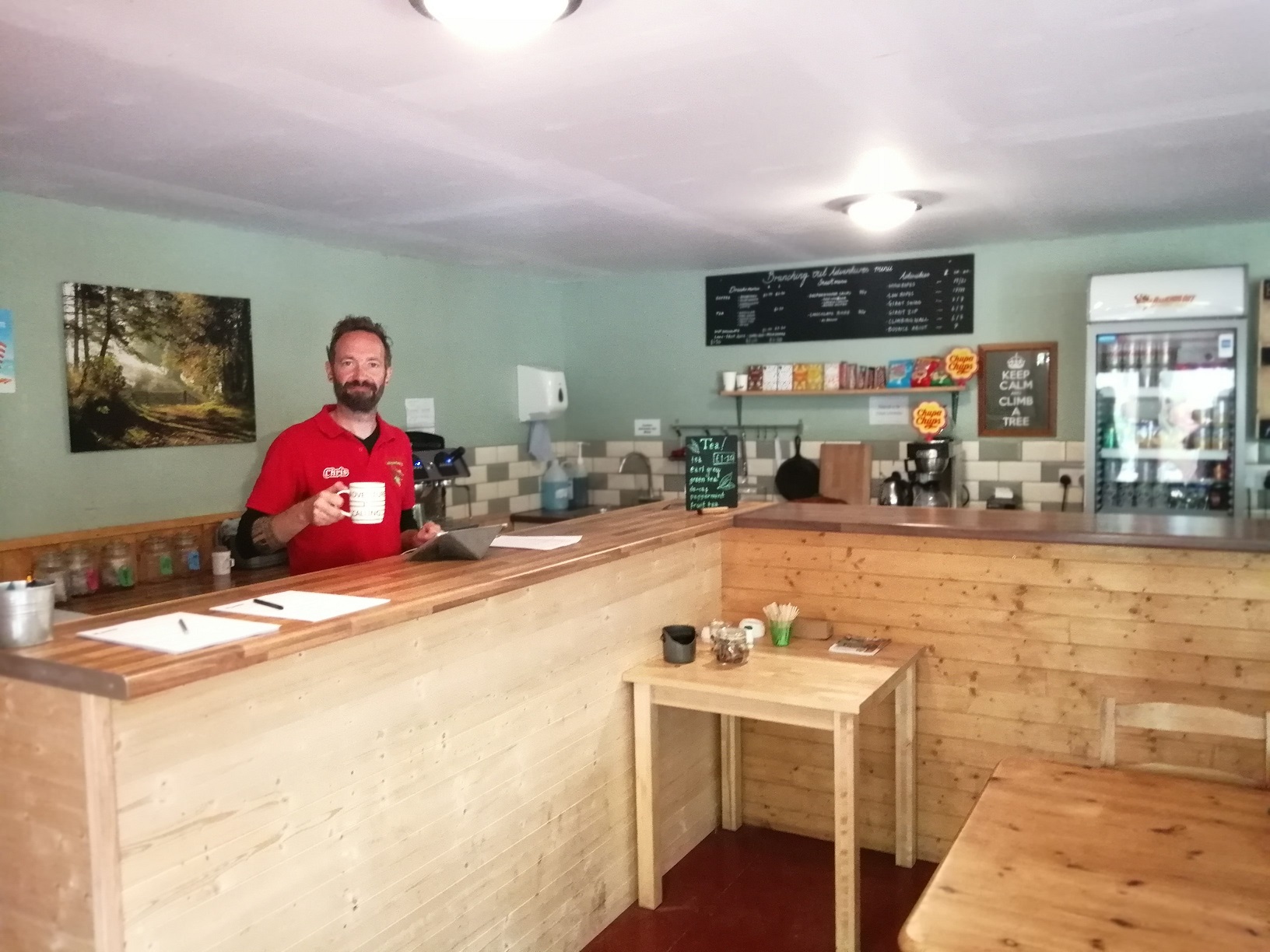 9th October to 7th December OPEN on Saturdays and Sundays from 11am to 4pm, last pre-bookings for rope courses at 2pm.
PLEASE EMAIL chris@branchingoutadventures.co.uk if unsure of availability.
Please enquire to chris@branchingoutadventures.co.uk if you'd like a birthday party.
We are open every weekend, public holidays and every day throughout the school holidays. Closing for winter hols on 8th December 2019 until 15th February 2020.
TERM TIME:
(1st Feb to 31st May) Open from 10am to 5pm weekend days, with last entry at 3pm.
(31st May to 26th October) Open from 10am to 5pm Thursday, Friday, Saturday and Sunday, with last entry at 3.30pm. Weekday sessions are by appointment only via email to chris@branchingoutadventures.co.uk
(27th Oct to 7th Dec) Open from 11am to 4pm Fridays, Saturdays and Sundays, with last entry at 2.30pm.
We can open anytime between 9am and 5pm for Schools, Youth and Community Groups, Colleges and other large groups. Please contact us on info@branchingoutadventures.co.uk for details.
PLEASE NOTE: We are open for group bookings throughout December and January but closed for general public entry at weekends from 9th December.
WEEKDAY OPENING HOURS
(School Term Time)
During the week (Monday-Friday) we will require at least 24 hours notice to secure a booking. Our operating hours are determined by the bookings we have in place and we are, therefore, not always open. It is essential to book prior to visiting the centre during the week.
Please refer to the online booking section to determine a more accurate idea of opening times.